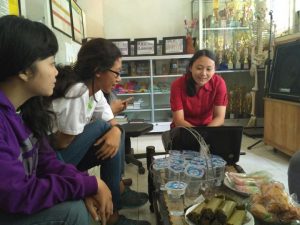 Semarang, 21 Desember 2016
Satu lagi perjalanan kami bersama para relawan AAT, kali ini agendanya adalah mengunjungi sekolah – sekolah yang dibantu AAT di daerah Bandungan dan sekitarnya. Kami berdelapan saat itu, ada Nevira, Yolanda, Dian, Hamdan, dan Heni, serta dua relawan baru yang ikut bersama kami yaitu Polla dan Reno.
Agenda kami adalah melakukan pelatihan kepada para Penanggung Jawab (PJ) sekolah yang berada di kawasan Bandungan dan Sumowono, kegiatan ini menindak-lanjuti kegiatan pelatihan Penanggung Jawab (PJ) sekolah sebelumnya. Kami rasa kegiatan ini perlu dilakukan, mengingat bahwa ada lebih dari setengah jumlah sekolah yang dibantu AAT, belum bisa melakukan upload tanda terima dan kwitansi secara mandiri.
Hari itu kami menyambangi 5 sekolah yaitu SD kanisius Genuk Ungaran, SMK Theresiana Bandungan, SMP Theresiana Bandungan, SD Mardi Rahayu Ungaran, SD Kristen Ngampin, dan SMK Kanisiun Ungaran. Kami diterima dengan hangat oleh para Penanggung Jawab (PJ) sekolah-sekolah tersebut. Sungguh luar biasa ketika seluruh murid sudah memulai liburannya, namun para Penanggung Jawab (PJ) sekolah ini masih harus melakukan kewajiban mereka di sekolah.
Saya juga bangga pada semangat dari para relawan yang ikut serta dalam perjalanan ini. Yahhh…. Boleh dibilang ketika teman – teman kampus kami mulai bepergian ke kota asal mereka dan piknik bersama keluarga, tapi kami tetap melaksanakan tanggung jawab kami untuk AAT. Perjalanan paling sulit sebenarnya ketika kami mulai memasuki kawasan Ungaran menuju ke Bandungan. Kami berdelapan hanya mengendarai motor dan ketika memasuki kawasan Ungaran, hujan turun begitu lebat. Akhirnya, kami semua harus berteduh hingga hujan reda.
Bagi saya, pengalaman ini sudah merupakan pengalaman kesekian kali bersama AAT, dan pengalaman ini tidak akan habis untuk diingat.  Hanya satu tujuan kami saat itu, kami bisa berhasil melaksanakan misi kami untuk membuat sekolah – sekolah naungan AAT sekre Semarang. Karena sistem ini akan mempermudah jalannya administrasi di tubuh AAT sendiri.
Harapan kami kedepannya adalah akan ada banyak lagi anak – anak yang terbantu berkat AAT, dan mereka dapat merasakan hidup yang layak ketika mereka besar nanti.
"Education is the most powerfull weapon how you can use to change the world"
Jadi.. Mari berjuang demi masa depan yang lebih indah dan lebih baik lagi.
Penulis : Eunieke Yeni Prahastuti
Mahasiswi Jurusan Teknik Kimia dan Penerima Beasiswa Yayasan AAT Indonesia dari AKIN Semarang
Please follow and like us: